Palomar Health Orthopedic Trauma Team, provides expert care for all aspects of traumatic musculoskeletal injuries, including inpatient and outpatient orthopedic surgical care, rehabilitation and orthotics and prosthetics.
For nearly 25 years, Palomar Health of San Diego has served the needs of gravely injured people in South Riverside and Northern San Diego County at its designated Trauma Center at Palomar Medical Center Escondido. It is one of six such facilities throughout San Diego County, and receives more than 1,000 patients a year from an 800-plus square mile area who have sustained serious physical injuries from an external force.
Leading the Region in Trauma Care
As a Level II Trauma Center, Palomar Medical Center Escondido satisfies strict guidelines set by the American College of Surgeons and the County of San Diego, including the dedication of resources – specially trained physicians and nurses and state of the art equipment – for the management of trauma patients throughout all aspects of their care, including resuscitation, acute care and rehabilitation.
Our 24 hour on-call team includes:
Board Certified Orthopedic Traumatologists
Trauma Surgeons
Emergency Room Physicians
Orthopedic Surgeons
Neurosurgeons Plastic Surgeons
Reconstructive Surgeons
A dedicated trauma teams of nurses, therapists and anesthesiologists  are always on call to treat various combined bone and soft tissue problems and to achieve improved outcomes and fewer complications.
As a non-profit community hospital district, Palomar Health continues its long-standing dedication to treating all patients who are in need of care, regardless of their ability to pay.
Hip Fracture Repair
Implementing a Hip Fracture Pathway to Improve Patient Outcomes Hip fractures for seniors can be extremely painful. Without proper treatment, hip fractures can lead to a rapid loss of independence and mobility, and even a high rate of mortality.
Length of Stay for Hip Fractures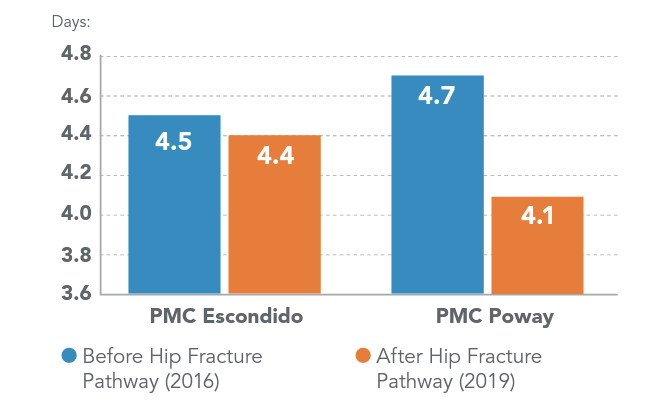 Speed is the Key
Our goal is to diagnose the fracture quickly so we can reduce the patient's pain. Then we follow evidence-based guidelines that advance the patient through their care plan, including surgery within 24 hours if necessary. Improved patient outcomes:
Better pain control
Early return to activity
Avoid adverse events (e.g., infections, falls, readmissions, revision surgery)
Satisfied patients and family members
Rapid Recovery Protocol
The care team involves everyone along the continuum, including emergency physicians, anesthesiologists, hospitalists, orthopedic surgeons, nurses, pharmacists and therapists.