It's not often you witness history, but when you do, you recognize it immediately. At Palomar Health, we are always ready for the unexpected because not everything is predictable. On Wednesday, March 21, the nurses in the Palomar Medical Center Poway Labor and Delivery Unit participated in something they'd never seen before, sisters giving birth on the same day. What's even more historic is that both babies were delivered by the same doctor. Nurse Manager, Vaneese Cook, says she has never seen anything like it in her almost 20 years working in the unit.  
Lara Ray and her husband Richard announced to their family they were expecting their third child some eight months ago. About the same time, Lara's sister, Taliyah Davila, and her husband, Roberto, discovered they were expecting as well. Not telling anyone for a few months (they weren't sure the pregnancy would be viable), Taliyah began secretly visiting Lara's obstetrician, Dr. Damon Cobb of Poway.  
Both sisters and their middle sister graduated from Poway High School; Taliyah in 2001 and Lara in 2004. After years in the Navy, where she met Richard, the Rays moved back to Poway to be near Lara's parents. Lara and Taliyah chose Palomar Medical Center Poway to deliver their babies because as self-described best friends they wanted to deliver together, and they knew they'd receive extraordinary care.  
Originally, their chances of delivering on the same day were remote because their due dates were three weeks apart, but as the time got closer, Dr. Cobb moved their due dates only a week apart. As fate would have it, the families watched Father of the Bride 2 on March 19 and Lara said, "How cool would that be to have babies born the same day?" as in the movie, where Steve Martin was running between his wife and daughter's delivery rooms. Sometimes life imitates art, and Lara and Taliyah's mom and sister were running between delivery rooms the very next day.  
Lara was the first to arrive in the labor and delivery room followed by Taliyah two hours later. At one point, Lara said she walked (slowly) into Taliyah's room to wish her good luck but other than that both sisters communicated throughout their labor process via text. This being Lara's third child, she expected it to go quick, but also was motivated to slow down. Lara and Richard said they didn't want to have a Pisces (an inside family joke that all the Pisces women in the family are "difficult"), which would be the case if Helen were born March 20.  
"We were texting each other 'I hope this baby holds out until tomorrow,'" Lara said.  
Taliyah on the other hand said she was in competition to have Isla first and would send her middle sister down the hall for progress updates.  
"I'd be at seven centimeters (measure of the cervix during pregnancy), and she'd be at 6.5," Taliyah said. "Then she'd be at an eight and I'd be at a 7.5."  
Not only were Lara and Taliyah's mom and sister running back and forth between the rooms, but Dr. Cobb as well.  
Ultimately Lara, Richard, and Roberto got their wish; the babies were born on March 21, the first day of the Aries sign.  
Lara delivered Helen at 12 minutes past midnight. Taliyah did not win the first to birth competition, delivering Isla at 9:50 a.m., making the cousins almost like twins (in fact their parents think they look like twins).  
"We're going to save a lot of money on birthday parties," Roberto and Richard joked as they plan to split the cost of joint celebrations.  
"In the end, it was great they were born on the same day," Taliyah said.  
"They're going to be best friends," Lara said.  
As for their experience at Palomar Medical Center Poway, Richard said, "Everything has been amazing." Richard said it was great having all the tests, labor, delivery and recovery in the same room. "We never had to move."  
"The level of care has been phenomenal. We've been talking about it the whole time," Roberto said citing the care of the nurses, anesthesiologist and obstetrician.  
After leaving the hospital, Lara and Taliyah said they plan to spend a lot of time together as they both have three months of maternity leave from their jobs.  
Sara White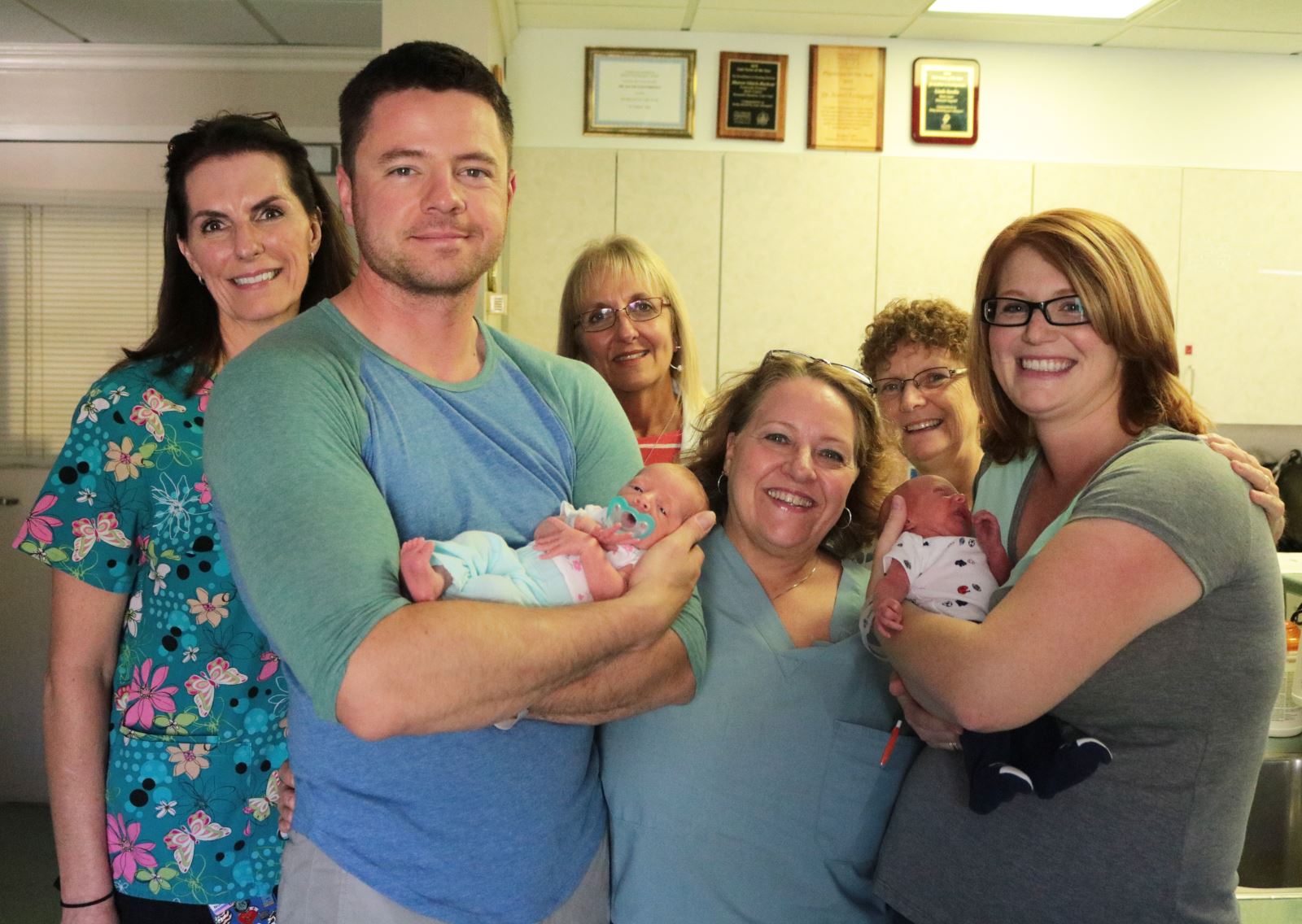 Sara White delivered her twins at Palomar Medical Center Poway and couldn't have been more pleased with the experience. Here's what she had to say about our Labor and Delivery/NICU:  
"It's been an amazing experience at the Birth Center at Palomar Medical Center Poway. It was the best labor and delivery birth that I've had, and I've delivered at three different hospitals. Having them being cared for in the NICU here was nice. They got a lot of attention. I loved that I could be here with them whenever I wanted to be here. My favorite time to come in was after shift-change at night. I would come in for a couple of hours at night, rock them, feed them and feel like I got to put them to bed. I'd then go home and be with my big kids and then come back and see the babies again."  
"They have a big brother and a big sister at home, two and five years old. Together, they'll all be relatively close in age and at some point, they'll all be teenagers at once, but that's for another time. Everyone on the staff has been great. They have a wealth of knowledge, and everyone has every answer to every question that you ask. I've always felt welcome to call, I've always felt welcome to be here. I knew where everything was, where the blankets were, where the bottles were and everything else that the babies needed. It never felt like I had to ask permission to do things with my babies. I just got to come be with them."  
"The first night we left them was really hard. I was a nervous wreck. As soon as I got here and I saw the two nurses, I was relieved to know that they were being taken care of and loved, too. This hospital came highly recommended; it's not just tolerant of mom's birth plans, it's really supportive of how they want to birth. We sought it out for sure."  
"We delivered at three hospitals now, and we want to be here. Giving birth, I got to labor the way I wanted. I did get taken to the OR to have them, as is usual with multiples. I was talking to one of the nurses after. It was a really peaceful OR. Going from laboring in a nice quiet, dim room, and going to the bright OR was still very relaxed. It didn't feel stressful or scary. Whenever I come in to see the babies, the staff is always asking if I want juice or water. I felt taken care of the whole time. I'm sad to be leaving. I love all the nurses here, and I'm sad I won't be seeing them as often. "